In Boston, we're committed to making your events a success and providing you with service excellence across all of our venues. But, we're also always looking for ways to create a positive impact for our local community and reduce our environmental footprint through a variety of green initiatives and partnerships with local nonprofits.
In 2019, one such partnership brought over 500 lbs. of farm fresh produce to homeless people in the Boston area through Pine Street Inn – a nonprofit organization that offers emergency services, housing, and workforce development programs for homeless individuals.
The produce came from The Chef's Garden, a joint project started last year by the Massachusetts Convention Center Authority (MCCA), our exclusive food & beverage provider Levy Restaurants, and Green City Growers.
The Chef's Garden is about 800 square feet and is located right in BCEC's backyard - next to The Lawn On D. From May to November the garden produced a generous crop of basil, peppers, carrots, beans, and bok choy. And last November's harvest included turnips, rosemary, and thyme.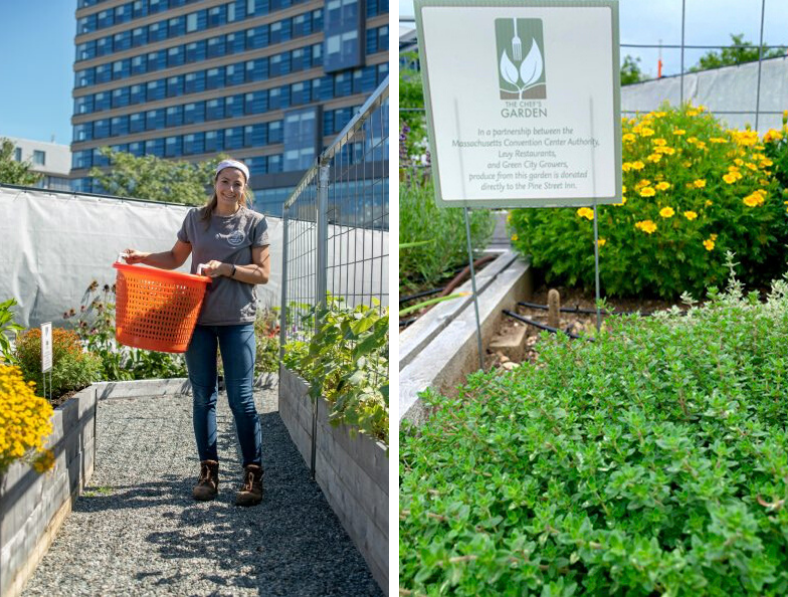 Photos by Levy Restaurants
"It's an amazing experience to walk into a local food bank's kitchen and see the chef's eyes light up because they are receiving fresh, local, in-season produce to incorporate into their meal," said Director of Experience for Levy at the Boston Convention & Exhibition Center, William O'Brien. "It encourages them to experiment with new recipes and flavors that they don't have the resources to provide."
In 2020 the teams are looking to introduce new combinations of produce and herbs to maximize the harvest and the use of the space with the hope of doubling the amount of crops to 1,000 lbs.
When it comes to running a convention center, green means much more than recycling. Learn more about the sustainability practices at the BCEC and the Hynes and our Conventions C.A.R.E. program that delivers clean, usable, non-perishable donations from exhibitors to local nonprofits around Boston.