Today, we continue our series about Boston's distinct neighborhoods with one of its most historic and picturesque areas: Beacon Hill. Its charm and character exudes from the hilly, narrow streets, brick sidewalks, gas lights, and beautifully adorned front doors. Beacon Hill has over 10,000 residents, who fill in every nook and cranny of this neighborhood, and give it a sense of community and familiarity.
History
Beacon Hill is one of Boston's oldest communities and gets its name from the beacon that once stood high on the hill to warn locals about invasions. Development in the area began with the construction of a new State House, designed by celebrated architect Charles Bulfinch and completed in 1798.
Around the same time, the Mount Vernon Proprietors, one of the earliest land developer operations in the country, was formed and purchased 18 ½ acres of land to the west of the State House (South Slope of Beacon Hill) for residential development. They created an elegant residential community suitable for Boston's wealthiest citizens, also known as Boston Brahmins.
In contrast to the impeccably organized South Slope, the North Slope of Beacon Hill developed more organically. Once known as an unsavory area frequented by British sailors and soldiers, by the early 1800s, this part of Beacon Hill became the main African-American neighborhood of Boston. The African Meeting house in Smith Court was the center of the community and a significant force in Boston's abolitionist movement (>>Explore the North Slope with this walking map by WalkBoston).
Beacon Hill is the first historic district in Massachusetts, established in 1955 to protect the neighborhood from large-scale urban renewal programs. Today the district extends from Park Street to Cambridge Street and from the Charles River Esplanade to Beacon Street.
To learn more about Beacon Hill's history, check out this comprehensive brochure published by the Boston Landmarks Commission.
Getting Here
Beacon Hill is a short walk from several stops on Boston's subway, the "T" (Red line stops: Charles/MGH, Park Street; Green line stops: Arlington, Park Street, Government Center; Blue line stops: Government Center, Bowdoin).
Beacon Hill is also easily accessible by foot or public transportation from the Hynes and the Boston Convention & Exhibition Center (BCEC).
Eat
Beacon Hill's quaint streets feature a good variety of fine dining establishments ranging from classic and contemporary Italian cuisine to steakhouses and iconic brunch spots like The Paramount.
Check out the guides below for recommendations on where to grab a bite while you are exploring this historic district:

• Best Restaurants in Beacon Hill by Zaggat
• Best Restaurants on Beacon Hill by The Boxer Hotel
• The Top 10 Restaurants In Beacon Hill, Boston by culture trip
• Beacon Hill neighborhood guide by Time Out
Shop
Charles Street in Beacon Hill is home to the city's best boutiques and antique shops. Here are some of the best as recommended by locals:

• Where to Shop and Eat in Beacon Hill by Boston Magazine
• Explore Charles Street by Beacon Hill Hotel
• Shop Small: Beacon Hill Boutiques by he Boston Bon Vivant
Around the corner from the Massachusetts State House is Downtown Crossing, one of Boston's oldest shopping destinations and home to Macy's department store and many popular discount shopping outlets like Marshall's, TJ Maxx, H&M, Primark, and DSW.
About ten minutes away is another legendary destination, Faneuil Hall Marketplace. Faneuil Hall combines the food halls of Quincy Market with popular chain stores, local boutiques, and must-see street entertainment.
Not too far away is also the famous Newbury Street (1.3 miles away), filled with sidewalk cafes, trendy boutiques, specialty stores, and high-end designers.
See & Do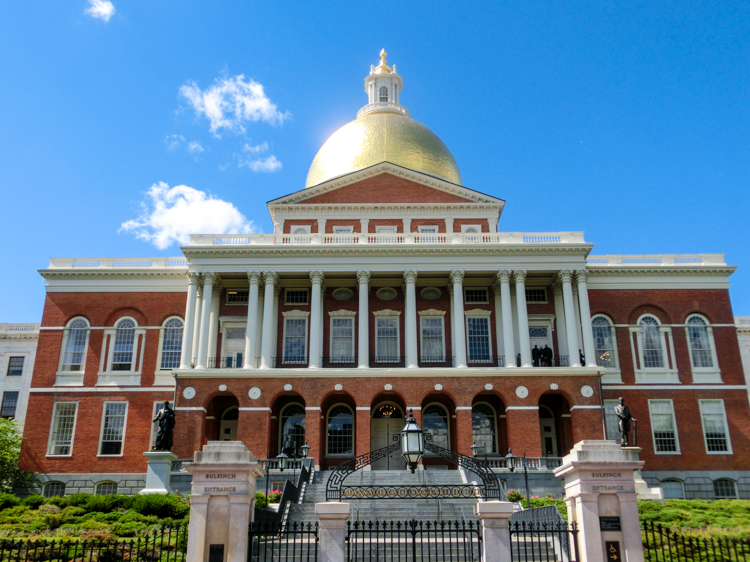 The Massachusetts State House
The Massachusetts State House, designed by Charles Bulfinch, the leading architect of his time, is a grand repository of history as well as an architectural treasure. With a cornerstone laid by Samuel Adams in 1795, and a dome coppered by Paul Revere in 1802, its marble-floored corridors and spacious ceremonial rooms are filled with works of art depicting our state's unique heritage.
Docents offer free walking tours of the building and collections from 10:00am — 3:30pm. Tours last approximately 45 minutes and start in Doric Hall.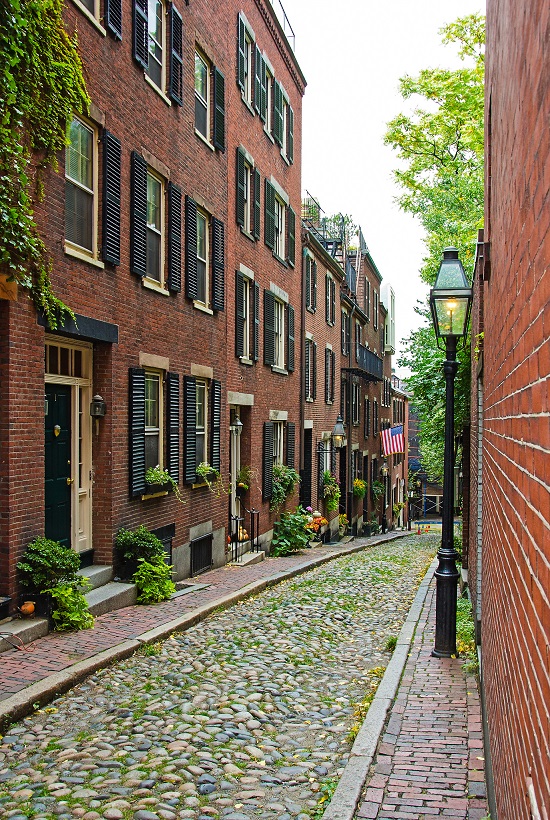 Acorn Street
One of the most photographed streets in the city, Acorn Street offers visitors a reminiscent ride back to colonial Boston. It was on this lovely street that 19th century artisans and trades people lived and today the row houses are considered to be a prestigious address in Beacon Hill.
Louisburg Square
This small fenced park is notable because it is the last private square in the city of Boston (it is owned by the people who live in the surrounding houses).
The homes around Louisburg Square were built in the 1840s and were to serve as a model for townhouse development. Once single-family houses, many of these grand colonial-style homes are now transformed into condominiums and apartments housing a wide variety of renters.
Nichols House Museum
The Nichols House Museum preserves and interprets the 1804 Federal townhouse that was home to landscape gardener, suffragist and pacifist Rose Standish Nichols and her family. Their home and its original art and furnishings provide a glimpse into life on historic Beacon Hill from the mid-19th to mid-20th century.
Otis House Museum
Otis House is the last surviving mansion in Bowdoin Square in Boston's West End neighborhood. Charles Bulfinch designed the house for Harrison Gray Otis, a lawyer who was instrumental in developing nearby Beacon Hill, served in Congress, and was a mayor of Boston. It is the first of three houses Bulfinch designed for Otis and his wife, Sally Foster Otis. The house reflects the classical proportions and delicate detail of the Federal style.
The Robert Gould Shaw and Massachusetts 54th Regiment Memorial
The Robert Gould Shaw and Massachusetts 54th Regiment Memorial, located across Beacon Street from the State House, serves as a reminder of the heavy cost paid by individuals and families during the Civil War. In particular, it serves as a memorial to the group of men who were among the first African Americans to fight in that war.
Charles River Esplanade
The Esplanade stretches for about 3 miles along the Charles River from the Museum of Science to Boston University and is the perfect place to run, stroll, bike, or simply relax in the sun, while taking in some of Boston's best sights.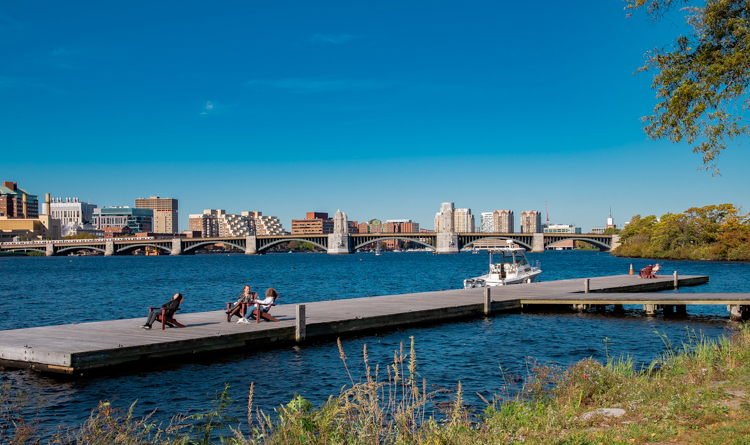 Boston Athenaeum
Founded in 1807, the Boston Athenæum is one of the oldest and most distinguished independent libraries and cultural institutions in the United States. The Athenæum's five galleried floors overlook the peaceful Granary Burying Ground, and, as Gamaliel Bradford wrote in 1931, "it is safe to say that [no library] anywhere has more an atmosphere of its own, that none is more conducive to intellectual aspiration and spiritual peace." The building was designated as a National Historic Landmark in 1966.
Museum of African American History
The Museum of African American History is New England's largest museum dedicated to preserving, conserving and interpreting the contributions of African Americans. In Boston and Nantucket, the Museum has preserved two historic sites and two Black Heritage Trails® that tell the story of organized black communities from the Colonial Period through the 19th century. Exhibits, programs, and education activities at the Museum showcase the powerful stories of black families who worshipped, educated their children, debated the issues of the day, produced great art, organized politically and advanced the cause of freedom.
Black Heritage Trail®
The Black Heritage Trail® explores the history of the 19th century African American community of Boston. The trail consists of 14 sites and begins at the Robert Gould Shaw Memorial on Beacon Street.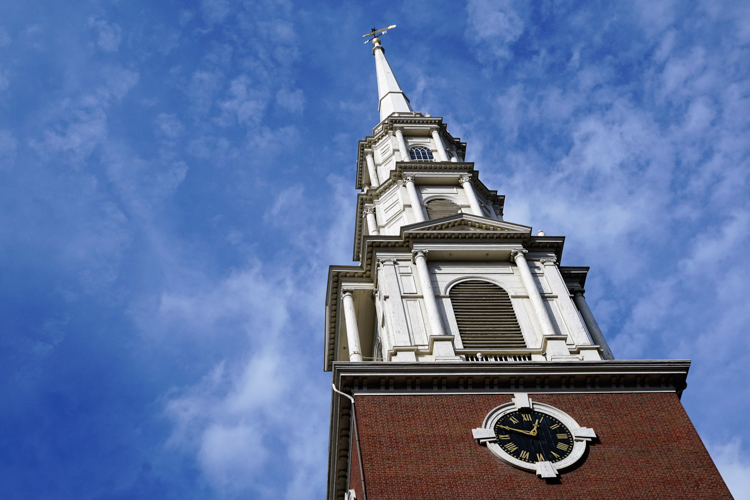 Park Street Church
The Park Street Church was built in 1809 and is still an active Congregational church and a historical stop in the Freedom Trail.
Park Street Church was the tallest building in the city from the time it was built until 1867. Before the water surrounding Boston was filled in to create Back Bay and other neighborhoods, someone arriving by water could see the steeple from all directions.
Cheers Bar
Founded in 1969 as the Bull & Finch Pub, Cheers Beacon Hill became the original inspiration for the setting of the TV show Cheers. In fact, the year that the Cheers show premiered on television (1982) Boston Magazine chose the Bull & Finch Pub as the "Best Neighborhood Bar" in Boston.
MHG Medical Cluster
Also located in Beacon Hill are two of Boston's most prestigious hospitals: Massachusetts General Hospital (MGH) and Massachusetts Eye and Ear.
Massachusetts General Hospital has been ranked among the top five hospitals in the United States by U.S. News & World Report ever since the rankings began. MGH is recognized as #4 out of nearly 5,000 hospitals considered in the ranking and is the only hospital ranked in all 16 specialties considered by U.S. News & World Report,
Massachusetts Eye and Ear is a teaching hospital of Harvard Medical School and trains future leaders in ophthalmology and otolaryngology through residency as well as clinical and research fellowship programs. In 2011 Mass. Eye and Ear merged with the located nearby Schepens Eye Research Institute, creating the largest community of vision and hearing researchers anywhere in the world.
Looking for more things to do in Boston? Check out our guide of What To Do for shopping, dining, arts & music, historic landmark, and sports & entertainment suggestions. To give you a better idea of Boston's make-up, also explore our guide to all the neighborhoods of Boston. Our Interactive Map will help you find the hotels, restaurants, and private event venues in the Back Bay that are best suited for your group.
Catch up on our previous neighborhood guides about the South Boston Waterfront District, Back Bay, and North End.