In this week's blog post written by our fall intern Gillian McMahon, a sophomore at Boston University's Questrom School of Business, we explore Boston through the four seasons of the year. From taking fall foliage strolls through the tree-filled Freedom Trail in October to seeing the return of the flowers in the Boston Public Garden in April and watching the sunset over Fenway Park on a summer night, Boston is filled with endless sights and things to do year-round, no matter how much time you have to spend here.
Winter
If you happen to be in Boston during a snowstorm, you are in luck! Not only do we know how to handle the winter weather like pros, but the city wrapped in fresh sparkling snow is quite a picturesque sight. One of the best spots to see covered in snow is the North End - the serenity and calmness are such a contrast to the usual hustle and bustle of the city's historic Italian neighborhood.
During the holiday season, the whole city is illuminated by an array of amazing light shows and displays. Among the most notable are the lights lining the Commonwealth Avenue Mall and the Christmas tree that Boston receives each year from Halifax, Canada out of a hundred-year-old friendship. During World War I, two ships collided off the coast of Halifax Harbor, and when news of the explosion travelled to Massachusetts, Governor Samuel McCall sent a group of doctors, nurses, aid workers, and supplies from Boston. Many Bostonians celebrated the Christmas of 1917 there and a year later, Nova Scotia sent a Christmas tree to Boston as a thank you. The tradition continues today, and the tree is a beautiful sight to see in Boston Common throughout the month of December.
Spring
After the winter, Boston comes alive with the return of warmer days and the abundance of greenery. Boston Common and the Public Garden are among the top local spots to visit in the spring whether you prefer to walk around and admire the exquisite flowers in bloom or relax by the water with a picnic lunch and a book.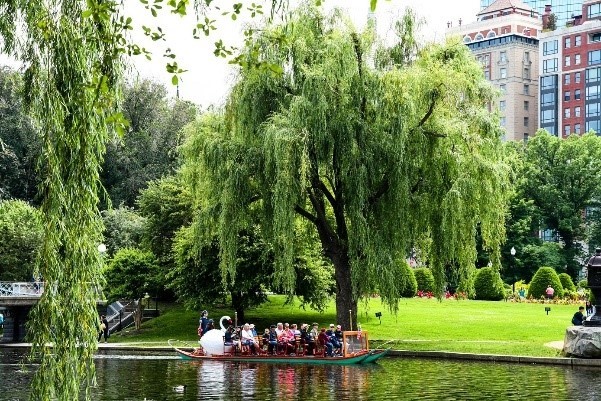 Another beautiful area to explore during the springtime is the Back Bay neighborhood. From the classic architecture to the return of color in the ivy and perfectly manicured front lawns, this part of Boston is sure to delight you. Make sure you check out Beacon Street, Marlborough Street, or Commonwealth Avenue for some of the most beautiful brownstones you'll ever see!
Summer
To experience the best of summer in Boston, head to the Seaport District. This part of town has so much to offer including a variety of restaurants, green spaces, rooftop bars, and beautiful views of the city skyline (check out Fan Pier Park at sunset). And, frankly, it's hard to beat the cool breeze coming off the harbor on a hot summer day!

But what's summer in Boston without a Red Sox game at Fenway Park? The ballpark is one of America's most iconic baseball stadiums, and any game or summer concert here is a blast. Enjoy classic snacks and people watching and take part in fan traditions like singing "Sweet Caroline" during the 8th inning. If you can't make it to a game, be sure to check out the up-and-coming Fenway neighborhood for a variety of shopping, entertainment, and dining options ranging from fast food and sports bars to restaurants owned by celebrity chefs like Tiffani Faison.
Fall
Fall in Boston is so spectacular that it might very well become your favorite season! History buffs will enjoy walking the Freedom Trail, a 2.5-mile walking trail marked by a brick line on the sidewalks that passes through 16 historic American Revolution sights including Park Street Church, Old South Meeting House, the Boston Massacre Site, Faneuil Hall, and more.
The Charles River Esplanade, while amazing any time of year, is an awesome place to soak in the last of the warm weather. It's perfect for outdoor activities like going for a walk, running, or biking, or you can find a bench, picnic table, or spot on one of the three docks to hang out and relax. The views across the river to Cambridge are spectacular and on most early mornings and evening you can catch one of the Boston schools sailing or crew teams out practicing.
Check out our guide of What To Do for shopping, dining, arts & music, historic landmark, and sports & entertainment suggestions. To give you a better idea of Boston's make-up, also check out our guide to all the neighborhoods of Boston.
Boston is open for future bookings. If you need to change the dates of an event that hasn't been accommodated by another city or are simply looking for a date in the future, don't hesitate to reach out at sales@SignatureBoston.com.