At both the Boston Convention & Exhibition Center (BCEC) and the Hynes Convention Center (Hynes), we are committed to implementing industry-leading green practices and making a positive impact on our community. In this week's blog we share with you more details about our sustainability program and the ways we conserve energy, water, and waste as part of our daily operating strategy.
LEED Certified
In 2016, the Boston Convention & Exhibition Center (BCEC) was certified LEED Silver by the U.S. Green Building Council. LEED, which stands for "Leadership in Energy and Environmental Design", is an internationally adopted "green building" rating system, which evaluates a building's environmental footprint in terms of its resource consumption, waste management practices, and overall operational efficiency. The BCEC is now one of the largest buildings in New England, and only amongst a handful of convention centers internationally, with the LEED certification.
Power
At the BCEC and the Hynes, we minimize power consumption through sensor-controlled utilities, high-efficiency lighting, and operations strategies that allow us to minimize usage in non-occupied spaces. Dimmable ballasts are installed in the emergency stairwells, reducing light levels by 90% until they are activated. In addition, the 4-foot fluorescent lights in the entire facility have been replaced with LED's. And to further improve the efficiency, lighting and HVAC are reduced when exhibitors are setting up and breaking down.
BCEC's existing Lutron lighting system was recently replaced with the Lutron Quantum system that automatically dims or switches lighting based on the available daylight and space occupancy. By reducing energy consumption at our facilities, we are able to conserve natural resources and lower the amount of greenhouse gases released in the atmosphere.
Green cleaning
We are committed to using green cleaning products like electrolyzed water. Our floor cleaning machines use Tennant ec-H2O Technology, which electrically converts water into a cleaning solution that cleans effectively and reduces the environmental impact compared to daily cleaning floor chemicals and methods.
Locally sourced food & composting
Our food and beverage partners, Levy Restaurants, are committed to sourcing local food and beverage (depending on the season up to 74% of their ingredients come from local farms and producers) and composting food waste. We also offer compost collection bins in designated areas around the dining area for event attendees.
In addition, Levy Restaurants use biodegradable packaging and corn-based compostable cups and utensils.
Recycling
Our recycling programs reduce waste both inside the organization and out. Recycling bins are stationed throughout office, meeting, loading dock, and food preparation areas for both internal employees and visiting attendees.
In addition, we:
• Have a designated e-waste collection area
• Use the Big Green Box program to recycle batteries
• Recycle electrical and internet cables
• Donate used pallets for reuse
• Send carpet and padding scraps to a waste-to-energy facility or to a facility where they are recycled into cement blocks and asphalt on a seasonal basis
• Have a Conventions C.A.R.E. program for donating leftover usable materials to local nonprofits. You can learn more about the program here.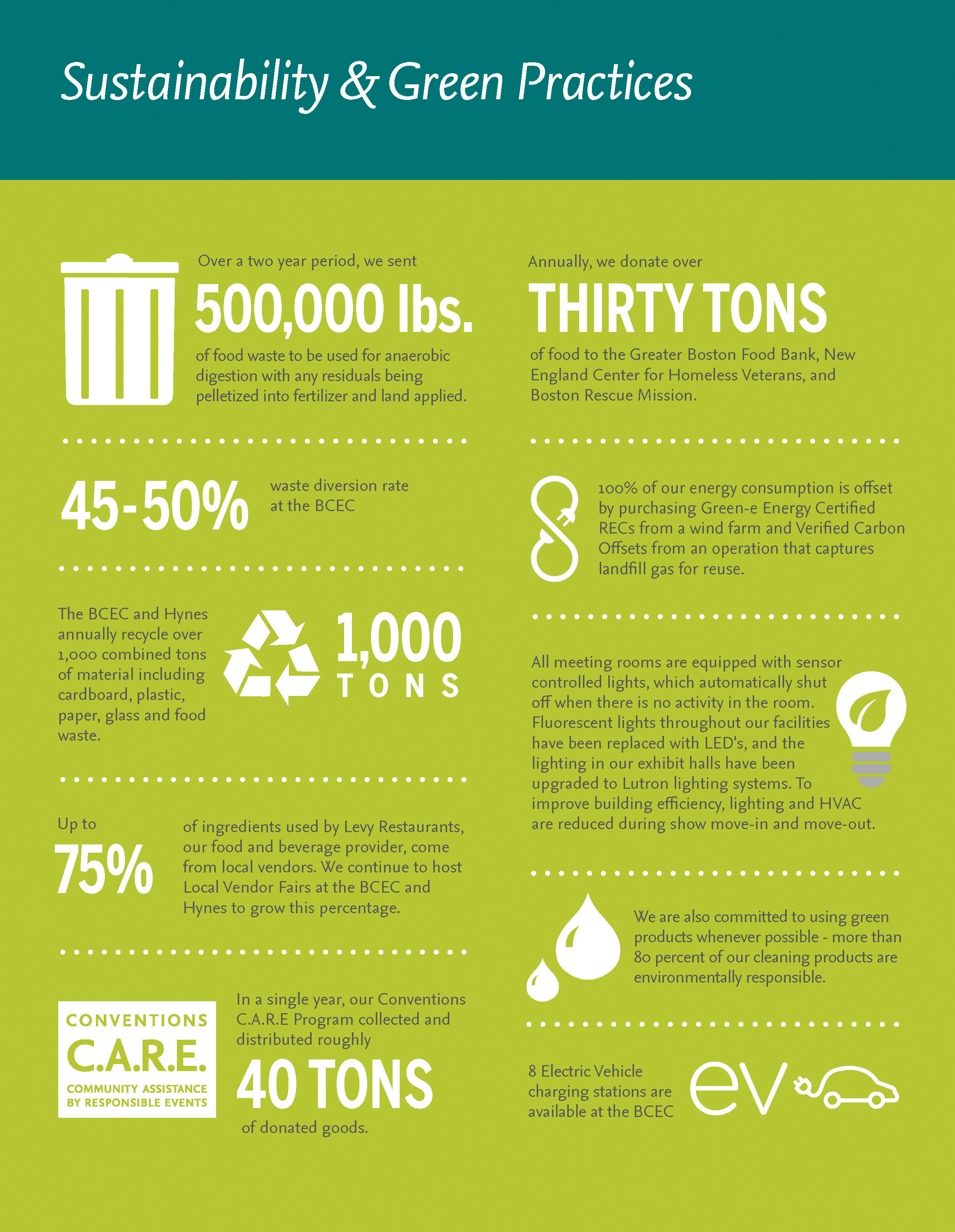 Case study
In 2017, the BCEC and Greenbuild, the world's largest conference and expo dedicated to green building, achieved the record-breaking waste diversion rate of 90.5%. Here is what the Greenbuild team had to say:
"Early in the planning process, the waste team set an ambitious goal of 81% for the Greenbuild 2017 waste diversion. This rate was 5% higher than what was achieved when Greenbuild was in Boston back in 2008. With the help of an amazing team at the Boston Convention & Exhibition Center (BCEC), Freeman, waste-hauler Save that Stuff, and local waste volunteers, the show was able to divert nearly all the materials from the show out of landfills to be recycled, reused, or donated."
When it comes to sustainability, green means much more than recycling. Learn more about all the green building practices we offer at the BCEC and the Hynes.