In honor of Earth Day, this week's blog is focused on the sustainability program at the BCEC and the Hynes and the ways we conserve energy, water, and waste as part of our daily operating strategy.
Our goal is to minimize the environmental impact of our facilities and provide programs that help support our customers in their efforts to host green meetings.
At both of our convention centers, we aim to reduce power consumption through sensor-controlled utilities, high-efficiency lighting, and operations strategies that allow us to minimize energy usage in non-occupied spaces. In addition, we use green cleaning products, source local food and beverage, compost food waste, and are always look for new ways to increase our waste diversion rates year after year.
The BCEC is certified LEED Silver by the U.S. Green Building Council. LEED (Leadership in Energy and Environmental Design) is an internationally adopted "green building" rating system, which evaluates a building's environmental footprint in terms of its resource consumption, waste management practices, and overall operational efficiency.
The Highlights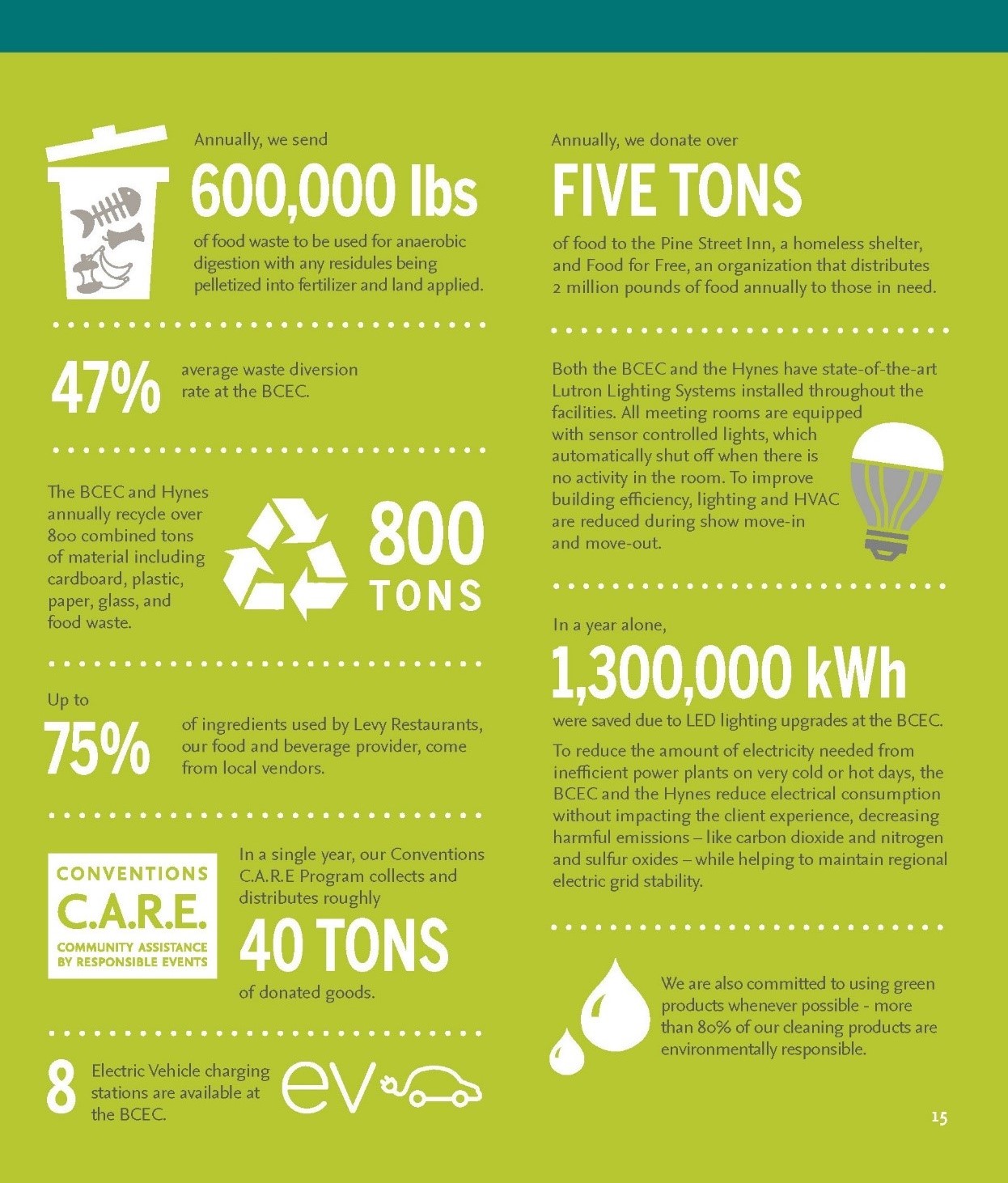 >>For more details check out our blog post from last year.
Recent Initiatives
In 2019, the MCCA, our exclusive food & beverage provider, Levy Restaurants, and Green City Growers started

The Chef's Garden

in the BCEC's backyard. The garden provided over 500 lbs. of farm fresh produce to homeless people in the Boston area through Pine Street Inn – a nonprofit organization that offers emergency services, housing, and workforce development programs for homeless individuals.
The MCCA is looking to pursue a monarch habitat certification. Today, monarch butterflies in the U.S. are particularly vulnerable due to reduced availability of milkweed and nectar plants. Monarch caterpillars need milkweed to grow and develop, and adults need nectar to give them energy, plus they require overwintering sites in which to rest. As part of that effort, last fall, we hosted a group of first graders who planted milkweed seeds at the BCEC.
The MCCA started an office organics collection program which is currently available in four locations at the BCEC and one at the Hynes. Currently, 41% of the BCEC's waste diverted from landfill or incineration comes from our organics program. The organics are sent to an anaerobic digester nearby and are converted to biogas. The expanded organics collection program will help the BCEC make progress towards its goal of an overall diversion rate closer to 50%, up from last year's rate of 47%.
Levy has begun donating prepared leftover food to

Food For Free, an organization based in Cambridge focusing on rescuing food that would otherwise go to waste and creating new distribution channels to under-served populations with an emphasis on utilizing school systems to reach those in need. Food For Free donates 2,000,000 pounds of food per year.
All meals for Levy employees are now served with reusable china/utensils which have considerably smaller carbon footprint versus single use serving ware.
When it comes to sustainability, green means much more than recycling. Learn more about all the green building practices we offer at the BCEC and the Hynes.
Boston is open for future bookings. If you need to change the dates of an event that hasn't been accommodated by another city or are simply looking for a date in the future, don't hesitate to reach out at sales@SignatureBoston.com.