For off-site dining functions with New England-inspired dishes and fresh-from-the-harbor ingredients, you don't have to go far from Boston's convention centers. Landmark restaurants for all palates are just around the corner, including spots that Bostonians and visitors alike have enjoyed for generations. Several of the most iconic, time-tested Boston restaurants are part of local restaurant collections Tavistock and PPX Hospitality—each a short walk or drive from the BCEC and Hynes. Read on to see the delights and details!

Tavistock Restaurant Collection
Tavistock restaurants have deep roots in Boston, featuring multi-generation suppliers and menus crafted from scratch. The collection spans across the city, from Back Bay (minutes from Hynes Convention Center) to the Boston Harbor in North End.

Atlantic Fish Company
0.2 miles from Hynes, 3.4 miles from BCEC
Atlantic Fish serves up fresh, hand-selected seafood in the Back Bay neighborhood. The restaurant prints updated menus daily, reflecting the catch from the harbor each morning. After a meticulous handling process, Atlantic Fish cuts and filets all of its fish in-house.
"We source straight from the harbor from a fourth-generation Boston family business that has been catching fish since 1906," said Tavistock Brand Manager Amy Lipinski.
This location is great for hosting private dinners for 12 to 30 guests, as well as seated events for up to 150 guests and reception-style events for up to 200 guests.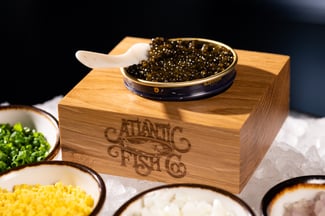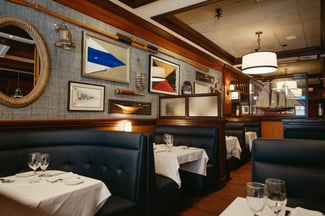 Abe & Louie's
0.1 miles from Hynes, 3.4 miles from BCEC
Abe & Louie's has set the standard for steakhouses across the nation. Its prime-aged Midwestern steaks and seafood pair well with an award-winning wine list crafted with all palates in mind.
The steakhouse is perfect for group dining with its accommodations for 10 to 125 guests, seated events for up to 100 guests, and reception-style events for up to 125 guests.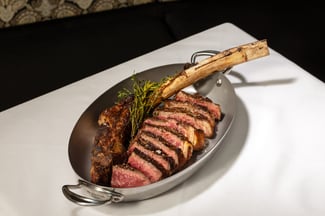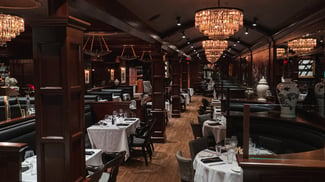 Joe's On Newbury
0.3 miles from Hynes, 2.8 miles from BCEC
Joe's Waterfront
1.8 miles from BCEC, 2.3 miles from Hynes
Nothing compares to comfort food made from scratch! Joe's is a casual dining spot serving New England classics that taste like home; each meal is paired with its famous warm peasant loaf.
Joe's is equipped with indoor, outdoor, and enclosed patio seating for gatherings year-round. The space can welcome groups of 10 to 400 guests.
"Joe's Waterfront offers seasonally inspired dishes amidst some of the city's most beloved landmarks near Faneuil Hall," said Lipinski.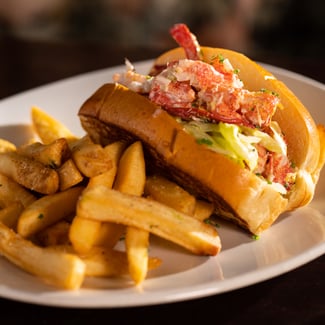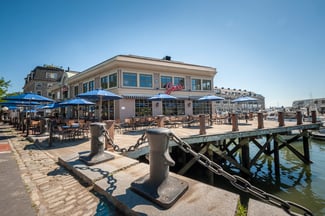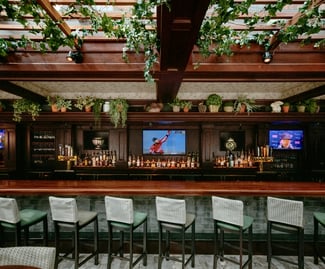 ---

PPX Hospitality
PPX Hospitality offers iconic, top-rated restaurant brands with options to "match your culinary mood." Guests are guaranteed an exceptional experience, because as the PPX Hospitality team explains, "At the end of the day it all comes down to the people. It's always about the people!"
Smith & Wollensky
1.1 miles from BCEC, 1.7 miles from Hynes
Smith & Wollensky is a world-renowned steakhouse featuring hand-butchered steaks. The dining experience includes the restaurant's custom-designed steak knives, a robust wine selection, and sustainably raised cattle prepared with fresh ingredients.
The restaurant contains four flexible areas for private events and dinners, each area equipped for digital streaming and presentations. Areas include: Wine Room, up to 72 seated and 120 reception; Patriots Corner, up to 20 seated and 25 reception; Liberty Room, up to 16 seated and 20 reception; and Waterfront Patio, up to 100 seated, 200 reception.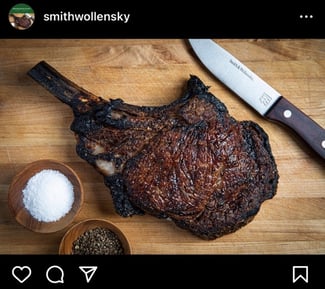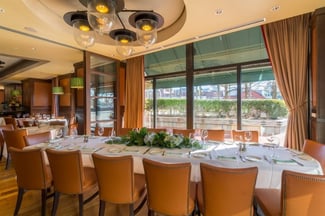 Strega Italiano
0.9 miles from BCEC, 3.0 miles from Hynes
Strega Italiano uses recipes passed down for generations to provide an authentic Italian dining experience that feels like home. Strega started as a small, charming restaurant in the North End, and has since expanded with a waterfront location, where locals and celebrities alike have enjoyed its cuisine.
Strega has four spaces for private events. These spaces are equipped with technology for audio-visual presentations. Spaces include: Full restaurant, up to 180 seated and 300 reception; Board room, up to 36 seated and 45 reception; Chef Room, up to 14 seated; Chef and Board Room combined, up to 50 seated and 65 reception; and Bar and Lounge, up to 50 reception.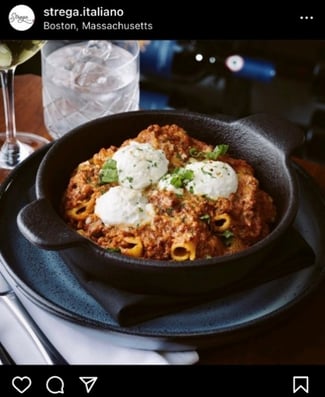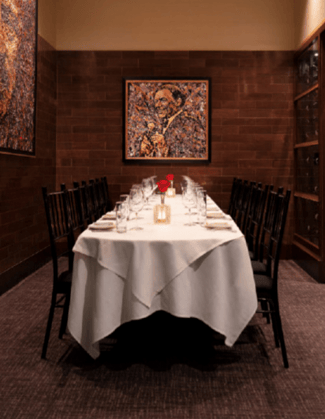 Harborside
0.4 miles from BCEC, 6.9 miles from Hynes
Copley Place
0.4 miles from Hynes, 3.0 miles from BCEC
"If it isn't fresh, it isn't Legal!"

Legal Sea Foods' classic tagline encompasses the essence of this storied restaurant, which began in 1950. Legal Sea Foods serves over 40 varieties of fish and shellfish throughout the year, and its New England Clam Chowder has been recognized and served at every Presidential Inauguration since 1981.

While the restaurant has multiple locations in the Boston metro area, the Legal Sea Foods Harborside location offers functional spaces for hosting events that can accommodate from 35 to 75 guests for lounge seating and pier views, up to 150 guests for a cocktail-style event, and 250 people if the entire space is utilized.

The Legal Sea Foods Copley location, housed in the same complex as Hynes Convention Center, can accommodate 20 to 65 people for a seated dinner and up to 100 guests for a reception-style event.

The experience at Legal Sea Foods has been crafted over decades, starting in Cambridge next door to a grocery store that offered customers a "Legal Stamps" rewards program. "It's here that the 'Legal' name became synonymous with quality and freshness," said Director of Marketing Christine Cocce. "There, we began serving top-notch seafood to guests."

Today, guests can expect a casually-elegant dining experience with modern furnishings, warm, natural wood tones, and colorful accents to keep the ambience sleek and comfortable.

Legal Sea Foods offers classic appetizers and dishes, including the famous clam chowder, crab cake sliders, fresh shellfish and filets, and more. The restaurant also regularly tests new concepts and recently introduced a Sushi & Sake menu.

The Legal experience is built with sustainability is at the core, ensuring seafood is obtained in a safe and environmentally responsible manner.

"Our process ensures that we maintain a hands-on approach," Cocce said. "From the moment the fish are caught, to shipment and preparation in our restaurants, we take great care in every aspect of the process."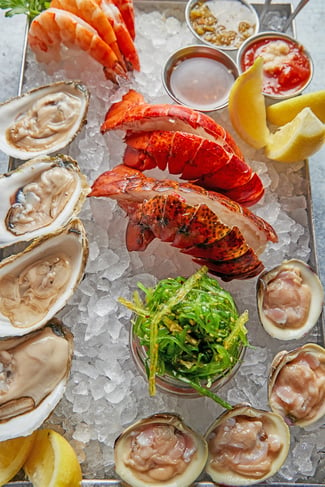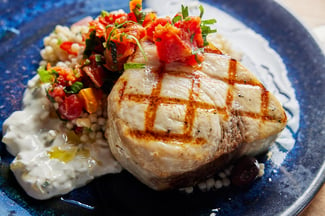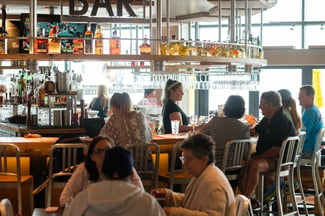 ---

To explore more of Boston's top-rated restaurants and cafes near the BCEC and the Hynes, check out our dining guides and the restaurant section of our Interactive Map.
*This blog post was written by our intern Rohini Rewatkar, who recently graduated from Georgia Institute of Technology.