Health & wellness have been among the most prominent trends in the events industry this year and according to a M&C Research Survey from August, the majority of attendees (67%) and meeting planners (75%) place at least some importance on wellness initiatives as part of event agendas.

For planners hosting conventions in Boston, our city offers a plethora of options to foster attendees' wellbeing and help them stay active and healthy on the road and during their event.

Boston is America's Walking City
Boston is one of the most compact and pedestrian friendly cities in the U.S. With historic sites, restaurants, iconic venues and attractions, there is so much to see and do in Boston all within walking distance of the BCEC! In fact, Walk Score by Redfin ranks Boston the third most walkable city in the country and highlights its excellent public transportation system.

To explore Boston on foot, you can find a wonderful collection of themed walking maps curated by locals and experts on WalkBoston's website. WalkBoston is a local non-profit organization dedicated to making walking in Massachusetts safer and easier.

And if you're seeking more of a physical challenge, Boston offers just as many scenic and exciting running trails.

Fitness classes & gyms near the BCEC
Our own Lawn On D hosts free fitness classes on selected Sunday mornings May through October. This year's classes included an outdoor spinning class with Rev'd Indoor Cycling, a full body toning workout by SweatFixx, and adventure training with BKBX by Brooklyn Boulders.

Outdoor exercise fans will love Seaport Common's (a 10-minute walk from the BCEC) free outdoor workout series featuring some of Boston's best fitness instructors. The series goes from the end of May until mid-October with nine classes a week Monday through Friday, plus selected Saturday mornings.

And for those wanting to keep up with their regular gym routine, the Seaport has plenty of great options like:
Healthy grab-and-go restaurants near the BCEC
The South Boston Waterfront is home to some of the finest restaurants in the city, but there are also plenty of fresh, grab & go options that won't break the bank:
You can also take a look at our South Boston dinning guide for more great food options.

Set up a wellness area inside your event
We know that every planner aims to keep attendees at their event for as long as possible, so our convention centers offer plenty of opportunities to incorporate wellness into your agenda without leaving the building.

For their INBOUND 2018 conference, HubSpot set up a fitness studio in one of the pre-function areas of the BCEC with one of their sponsors, Asics Studio. For the duration of the event, the fitness center offered free daily classes including yoga, HIIT, stretches, and meditations. The fitness studio was a unique sponsorship opportunity as well as a benefit to attendees.

And in 2016, in the middle of winter, New England Grows created a mini Lawn On D experience with ping-pong tables, corn hole, lounge chairs, and yoga right on the exhibit floor – a great idea for when it's colder outside!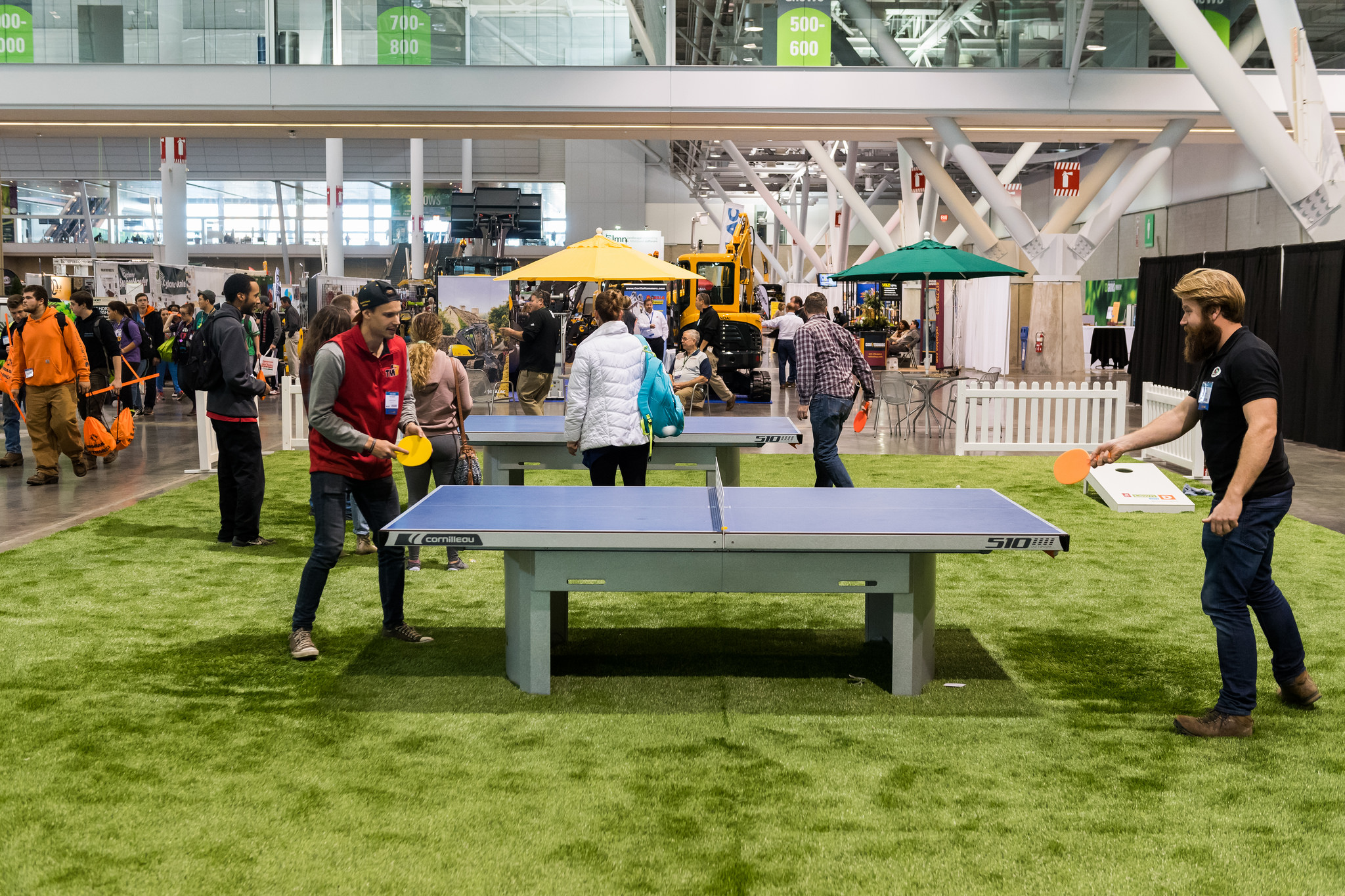 In addition, our exclusive food & beverage provider, Levy Restaurants, delivers the most local food and beverage experience in the meeting industry with up to 75% of their ingredients coming from local farms and producers.

Levy's catering menu features snack breaks and meal selections using a variety of fresh, seasonal produce, high protein options, and whole grains. And their signature fruit-infused waters with flavors like cucumber-lemon and watermelon-mint will truly delight your attendees.

The Plan Your Event section of our website includes information on all of the services available at our facilities. Whether you are in the process of evaluating Boston or planning your upcoming Boston event, our Signature Boston Team can walk you through all of your building services options. No matter how big or small, our convention centers have the flexibility to bring your vision to life.