Massachusetts has taken the top spot for education in the recently published U.S. News & World Report ranking the best states in the nation. The education category consists of two subcategories: higher education and Pre-K through the 12th grade and the scores is these subcategories are derived from metrics like college graduation rates, debt, college readiness, student test scores, and more.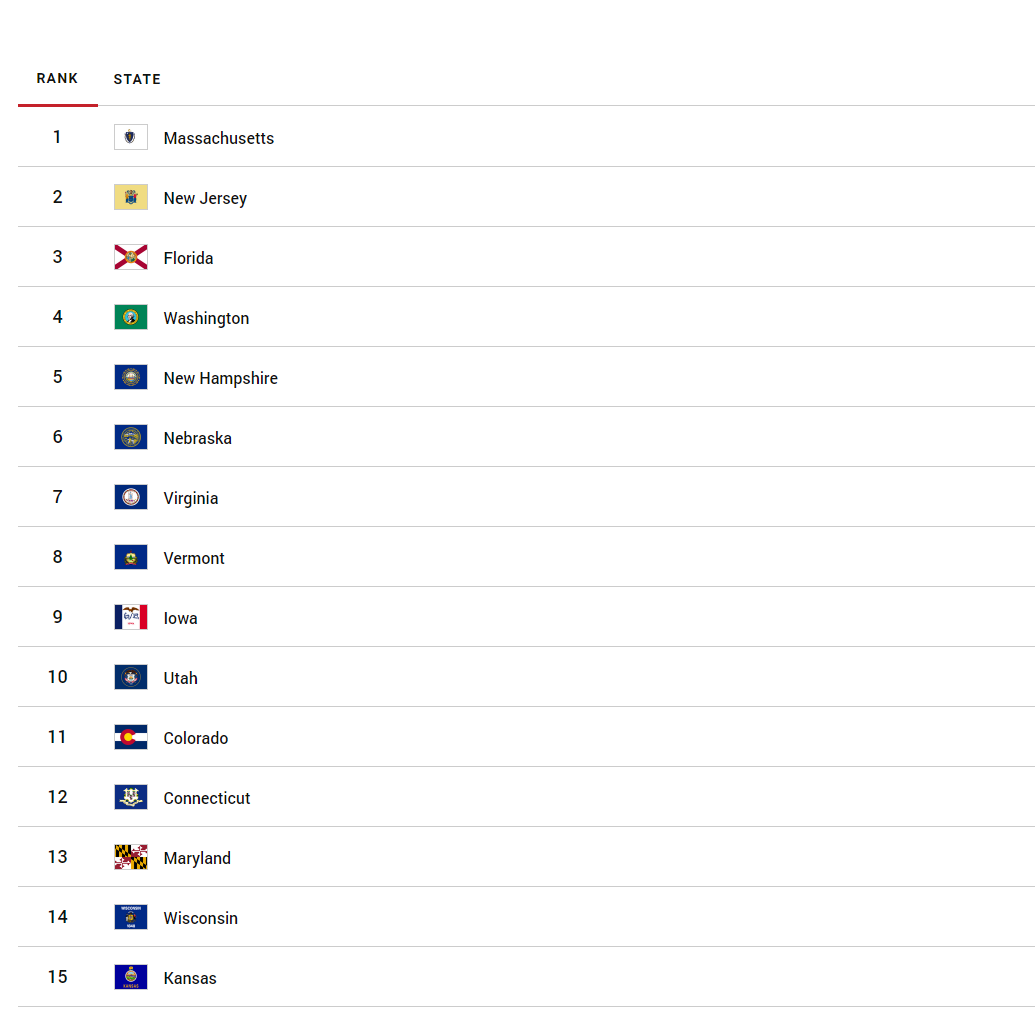 Source: U.S. News & World Report
Massachusetts ranked number one for metrics like:
• Educational Attainment – The achievement of college degrees in any state is a measure of how well the educational system has prepared its citizenry for advanced study beyond high school and enabled students to succeed. This metric, from the U.S. Census Bureau's 2017 American Community Survey, measures the share of people 25 and older in a state who have an associate degree or higher.
More than half of Massachusetts' residents hold an associate's degree or higher.
• NAEP Math Scores - Sampled students in the eighth grade across the country are tested for math and reading proficiency on the National Assessment of Educational Progress, which the U.S. Department of Education bills as "The Nation's Report Card." The scores on the math test range from 0 to 500. Data for this metric is from 2017.
• NAEP Reading Scores - "The Nation's Report Card" also measures reading proficiency among eighth-graders, with scores ranging from 0 to 500. Data for this metric is from 2017.
According to a press release issued by the Governor's Office, 2017 is the 12th consecutive year where Massachusetts students have scored first or statistically tied for first place on NAEP tests in fourth and eighth grade reading and math. Students in Massachusetts scored best, averaging 278 compared to the average national score of 267. Hispanic students and black students in Massachusetts fourth grade classrooms had their highest average scale reading scores ever in 2017.
Massachusetts also scored #3 for Preschool Enrollment and #4 for College Readiness.

Preschool Enrollment accounts for the percentage of children under age 5 in any state enrolled in a nursery school or preschool program in 2017, according to the U.S. Census Bureau's American Community Survey.
And the College Readiness metric takes into account scores from two college-readiness tests: the ACT (measures student achievement in English, math, reading and science) and the SAT (assesses students in math and evidence-based reading and writing).
Boston is ranked as one of the top cities in the world for students, thanks to its cluster of over 50 colleges and universities, including world renowned academic institutions such as MIT and Harvard University. When you host your education conference in Boston, you have access to some of the world's great thinkers and academic leaders just outside our front doors. And education meetings in Boston consistently achieve record breaking attendance.
Our education industry profile fact sheet is located in the Meeting Planner Toolkit, or contact us today for more information on Boston's education advantages!