Ensuring the safety and security of the conventions, meetings, and events hosted at the Boston Convention & Exhibition Center (BCEC) and the Hynes Convention Center (Hynes) is always at the top of our priorities.
As part of that promise, the Massachusetts Convention Center Authority (MCCA) is excited to announce the implementation of Evolv Express, a new, state-of-the-art scanning system, along with enhanced perimeter screening procedures.
Starting this year, for every event taking place at the BCEC and Hynes the following are the complimentary screening points of entry:
BCEC

Hynes

Three main entry points*

One Evolv Express unit at each entry point

Two Public Safety officers at each entry point

Both main entry points*

One Evolv Express unit at each entry point

Two Public Safety officers at each entry point
*On event days/when registration is open
Clients will work with our Public Safety Team to determine which entry points at the BCEC would work best for their needs. Additional entry points may be added as a value-added service.
The MCCA is committed to delivering excellent customer service by investing in new technology and constantly improving its safety protocols. Thanks to that more elaborate and unique security planning process, the BCEC became the first convention center in the country to be awarded the Safety Act Certification by the United States Department of Homeland Security. And the Coronavirus pandemic has only accelerated our efforts to improve how visitors access our facilities by making security screenings more efficient and less intrusive for attendees.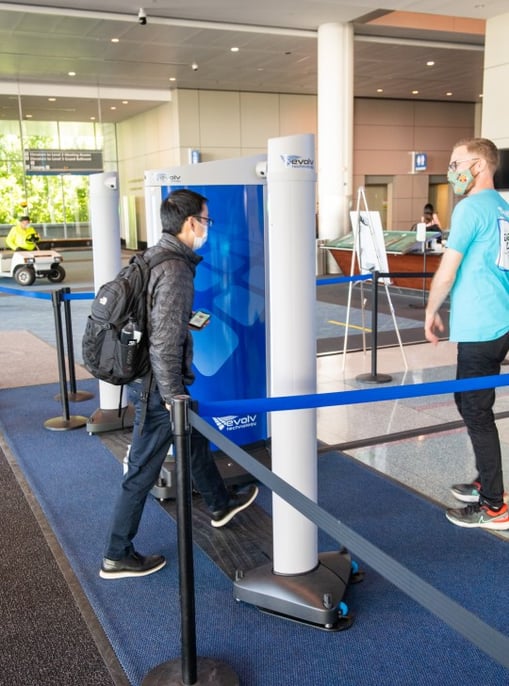 About Evolv
Evolv Express® is an AI-driven system using safe, ultra-low frequency, electromagnetic fields, and advanced sensors to detect concealed weapons. It is a reliable and convenient option to move large groups of guests quickly and safely into an event without having to wait in line or take off their bag. The use of Evolv Express results in smaller crowds at entry points, shorter lines, and fewer direct interactions with security personnel.
Evolv Express' AI scans for anomalies and, upon detection, a second, separate security check is performed by MCCA security personnel. One Evolv unit and two officers can scan 1,000 - 1,500 people per hour, which is five to seven times faster than traditional magnetometers and can be seamlessly integrated into the MCCA's existing security infrastructure.
This new technology has already been installed at Walt Disney World, Hersheypark, and Six Flags Amusement Parks with excellent results and has been in use at the BCEC and the Hynes since September.
For additional information or questions regarding Evolv Express and our new safety and security screening services, please contact your Event Services Manager.
Boston delivers the most comprehensive event solutions, with two award-winning convention centers, endless customization opportunities, cutting-edge technology, and a commitment to service excellence. Our complimentary and value-added services are designed to enhance your event, foster engagement, and increase revenues. Learn more about our offerings by visiting the Plan Your Event section of the website or downloading our Complimentary & Value-Added Services brochure.