View Boston, the newest spot for unique events in the city, recently opened its doors at the top of Back Bay's famed Prudential Tower. The experience features 360-degree views of the city and the chance to wine, dine, and discover at 700 feet in the air.
Located steps from the Hynes Convention Center and two miles from the BCEC, View Boston offers 59,000 square feet to elevate your Boston experience. The venue allows guests to dine at The Beacon – a bistro with 33 miles of visibility in every direction – and enjoy cocktails in the clouds at Stratus – New England's highest outdoor roof deck. Whether your event is 30 or 300 people, View Boston can meet your attendees' needs.
Read on for a floor-by-floor look at the View Boston experience!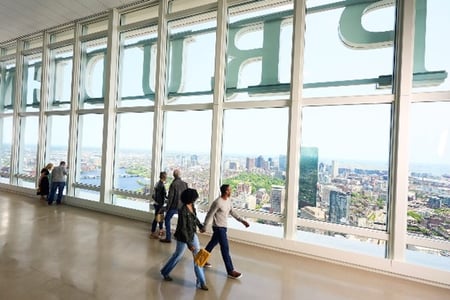 52nd Floor: Panoramic Views
The experience starts when the elevator doors open on the 52nd floor, known as The View. Guests immediately see a view full panoramic view of the city through floor-to-ceiling windows surrounding the 11,700-square-foot room. You can see 33 miles of viewing horizon on the sunniest of days – even glimpses of our convention centers! Also on the floor are fully accessible, elevated viewing platforms – The Lookout – offering more unique angles of the city.
Want better insight beyond the panoramic views? Get more involved using the interactive instruments placed throughout the 52nd floor. Lined along the sleek, modern windows are 3D models of Boston's famed and historic landmarks with printed and braille descriptions of each spot. Make an "I Spy" game out of the iconic buildings! Ten interactive Virtual Viewers present in-depth descriptions of Boston, with audible descriptions available.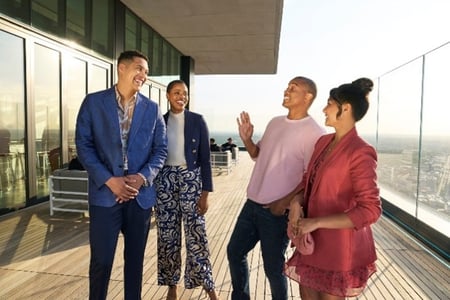 51st Floor: Cocktails in the Clouds
The 51st floor reveals a 360-degree, open-air roof deck and a chance to sip amongst the clouds from Stratus bar. Stratus serves signature seasonal drinks, sharable plates, and quick bites. Seating is ample indoors and outdoors, with different chairs and couches fitted in the sleek, silver aesthetic. With a porch-like feel to it, the open-air deck is perfect for receptions and off-site functions.

50th Floor: Discovery & Dining
The 50th floor ties the experience together with the interactive exhibits of Explore Boston, top-flight dining at The Beacon, and meeting spaces for events of all types and sizes. First up is Boston 365, a three-dimensional model of the entire city with high tech projection mapping that can display Boston in various seasons, times of day, and more! Attached is Explore Boston, an interactive, touchscreen discovery tool to see each of Boston's neighborhoods. You can also immerse yourself in a 270-degree theater screen to watch a short video through the streets of Boston from a child's point of view.
Moving from discovery to dining, The Beacon is your stop for regionally-inspired, bistro cuisine from top chefs. The Beacon can accommodate 90 people, including two areas: An open lounge with couches and chairs, and Studio 50, a fully customizable meeting space that can be used as either an extension of The Beacon or a private room separated by an air wall.
Host Your Event at View Boston
For any event, View Boston provides a state-of-the-art sound system, customized internet and technology accommodations, and full hospitality service. Chefs will customize your culinary experience, from casual drinks to a high-end, three-course meal, and everything in between. The complete package makes View Boston an ideal location for private events, corporate events, convention receptions, and more.
View Boston is located at the top of the Prudential Tower, inside the Prudential Center – a great start for all your shopping excursions. Upon exiting View Boston, you are surrounded by shopping spaces and restaurants for every palette. You are steps away from Copley Place, Newbury Street, the Reflecting Pool, and many more icons of Boston. We can't wait to see you here!
Interested in learning more about unique venues around Boston? Discover the diverse selection of Event Venues available near the BCEC and the Hynes by checking out the Event Venues section of our Interactive Map or by contacting our Signature Boston Sales Team.