The MGM Music Hall at Fenway opened on August 29th next to iconic Fenway Park. It is one of many exciting new entertainment venues to open in Boston recently and offers a truly unique space for off-site functions.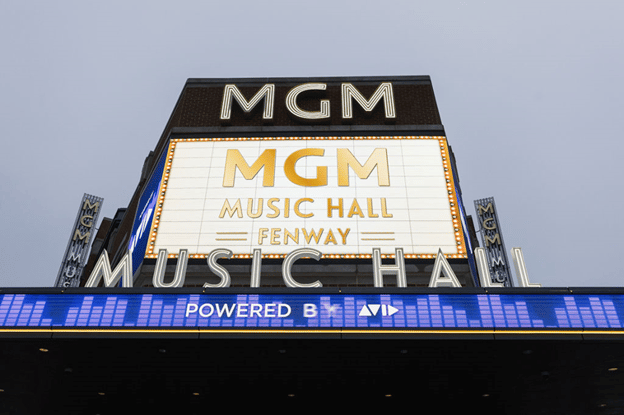 MGM Music Hall is Boston's newest indoor, multi-purpose, live performing arts venue located between Lansdowne and Ipswich Streets and walking distance (0.6 miles) from the Hynes Convention Center and 2.6 miles from the BCEC. With a capacity of 5,000 and roughly 91,500 square feet of event space on four levels, MGM Music Hall offers a rich setting, full-service event production, and state-of-the-art lighting and sound.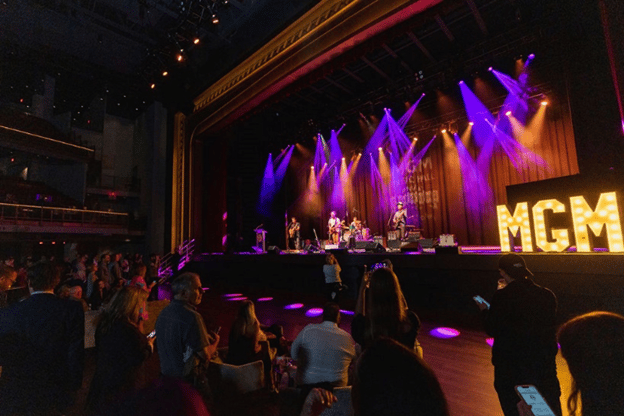 As described by Boston.com, "the 91,500-square-foot venue's unconventional triangular shape, a necessity of its location on the 'Triangle Lot' at the corner of Lansdowne and Ipswich Streets, meant the team at Somerville's DAIQ Architects had to be creative in its layout. But much like the neighboring [Fenway] ballpark, the end result is an intimate space in which no seat is farther than 110 feet from the stage."
For private events, ample food and drink is available throughout the venue, with catering services provided by Aramark. Three lounge areas and an open-air roof deck offer views of Lansdowne Street and downtown Boston. It is the perfect location to hold corporate events, private concerts, or convention receptions for 100-5000 guests.

For public events, MGM Music Hall will cater to "artists of all stripes". Fenway Sports Group has partnered with Live Nation Entertainment to bring in acts ranging from top pop artists to community programming. For the grand opening, legendary singer-songwriter James Taylor & His All-Star Band officially opened the venue with two historic performances on August 29th and August 30th.
Interested in learning more about unique venues around Boston? Discover the diverse selection of Event Venues available near the BCEC and the Hynes by checking out the Event Venues section of our Interactive Map or by contacting our Signature Boston Sales Team.
*This blog post was written by our interns, Stephanie Tran and Maria Duran. Stephanie and Maria are recent graduates, with Stephanie receiving her MBA from UMass Boston and Maria receiving her bachelor's degree in business from Suffolk University.