2020 has been a challenging year for all of us - it has forced us to think outside the box and adapt to a completely new reality. Earlier this year, the need for additional hospital beds to accommodate COVID-19 patients led to the transformation of the BCEC into a 1,000-bed field hospital. The project was completed in less than a week thanks to our facility's impressive technological capabilities and the incredible support provided by the BCEC's Engineering & Maintenance Team.
Now, as the weather warms up and some of the restrictions are finally lifting, the Massachusetts Convention Center Authority (MCCA) quickly figured out a way to bring joy to the local community by reopening one of Boston's favorite outdoor spaces, The Lawn On D.
The Lawn On D is usually open daily between May and October and offers food, drinks, lawn games, live music, and special events throughout the season. Under current state regulations and social distancing protocols, it was impossible to bring back The Lawn On D in its original form, so the space reopened on Friday, June 12 as an expansive outdoor restaurant with food services provided by Rebel Restaurants.
The Lawn On D has implemented CDC-recommended cleaning practices and social distancing rules to help prevent the spread of the Coronavirus.
Watch a short video from Boston 25 News showing what's different at The Lawn On D this year: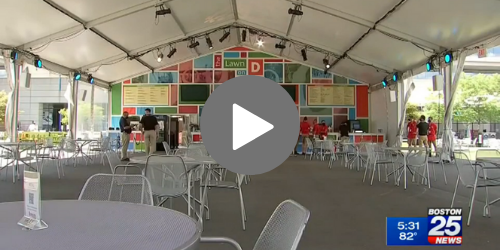 For regular updates on the MCCA's response to the COVID-19 outbreak, please go to https://sb.signatureboston.com/mcca-covid-19
Boston is open for future bookings. If you need to change the dates of an event that hasn't been accommodated by another city or are simply looking for a date in the future, don't hesitate to reach out at sales@SignatureBoston.com.