Boston is known for its innovative spirit and that certainly applies to our culinary scene. Chic and modern food halls have been popping up around town and have quickly become one of Bostonians' go-to spots for food, events, and team building activities. And if you too want to hop on the biggest fast-casual dining trend, check out the food halls featured in today's blog: all of them offer a great food selection, fun atmosphere, and the perfect backdrop for your special off-site event.
Located near the iconic TD Garden, Hub Hall (opened in September 2021), features 18 vendors offering a variety of different cuisines like Momosan, ReelHouse, Oyster Bar, Mike's Pastry, and more. This is the perfect place to get a taste of Bostonians' favorite foods and drinks or hang out with friends before or after a game at TD Garden.
After a two-year delay High Street Place (HSP) food hall finally opened in Boston's Financial District. HSP brings together many of Boston's favorite food trucks and local restaurants, including champagne and wine bar Bubble Bath, seafood & raw bar Dive Bar, and modern sushi place Fuji. HSP also expects to welcome Blackbird Doughnuts, one of the most popular donut shops in the city. On top of a wide-ranging selection of food and drinks, HSP also hosts live events, such as yoga classes with an after-party, March Madness watch parties, and a Kentucky Derby watch party coming up in May.
Since its opening in 2019, Time Out Market Boston has become one of the most popular culinary hotspots in Boston, in the heart of the Fenway neighborhood. The food options range from Asian-inspired bowls, burgers, and fried chicken sandwiches, to curated selections of meats and cheeses, Italian cuisine, Mexican favorites, New England classics, and Trillium Brewery. Time Out Boston currently features 13 vendors and a demo kitchen for highlighting up-and-coming culinary talent, with more vendors expected to be added to the mix in the following months.
Originally built in 1826, Quincy Market has been serving the needs of Bostonians for nearly two centuries. Over the years, Quincy Market has transitioned from hosting produce and poultry vendors to now restaurants, retail stores, and other attractions, making it a must-visit spot in Boston. From baked goods to gelato, Italian delicacies and New England Clam Chowder, Quincy Market offers a variety of food and drinks to tourists and locals alike. In addition to the food options offered in the food hall, there is also a wide selection of retail stores and mobile carts featuring international brands and local souvenirs.

If you are lucky, you may run into the buskers performing at the marketplace. Their performances range from singing and dancing, to contortions and stunt acts. And if you are looking for more exciting experiences, Quincy Market is also within walking distance of the Rose Kennedy Greenway, the Waterfront, and the New England Aquarium.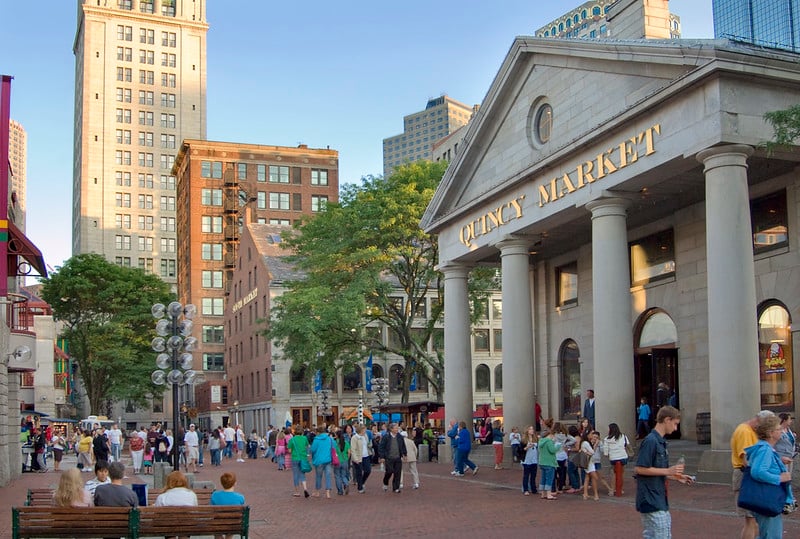 Eataly Boston is a vibrant Italian marketplace that hosts several different restaurants, cafés, gourmet food vendors, and a wine shop. Opened in 2017, Eataly has already become one of the staples of the Prudential Center. With more than 10,000 artisan products sourced from Italy and New England, guests can have an authentic Italian experience just steps away from the Hynes Convention Center.
Boston Public Market is an indoor, year-round marketplace for locally sourced artisan products sold by about 30 vendors. You can expect to find fresh produce, poultry, dairy, seafood, and prepared meal options sourced from the New England area. There are also festivals, workshops, cooking classes, and tours that bring the community together. Boston Public Market is located right next to Haymarket, one of America's oldest open-air markets, where visitors can find fresh produce, fruit, seafood, and more at wholesale prices.
Looking for more things to do in Boston? Our Interactive Map will help you find the hotels, restaurants, and private event venues near our convention centers that are best suited for your group.
*This blog post was written by our intern, Jenny Han, a senior at Boston University in their School of Hospitality Administration.