Boston was recently ranked the top US destination for international association meetings by the International Congress and Convention Association! We make it easy to get here and offer award-winning, sustainable, state-of-the-art venues for your event. Read on to see why your next event belongs in Boston!
1. Accessibility to Boston from international destinations, drawing qualified attendees to your event
The Boston Convention & Exhibition Center and the Hynes Convention Center draw attendees from across the globe thanks in part to the accessibility of Boston Logan International Airport, which is 3 miles (4.8 km) from the BCEC and 5 miles (8 km) from the Hynes. Logan Airport offers non-stop service to 56 international destinations including Bogotá, Dubai, Hong Kong, London, Madrid, Mexico City, Paris, Rome, São Paulo, Shanghai, Tel Aviv, and Tokyo among many other major world cities. Additionally, Boston is easy to get around on foot (nicknamed The Walking City) or via the Massachusetts Bay Transportation Authority subway system, better known as "The T," as well as buses, water taxis, and ferries.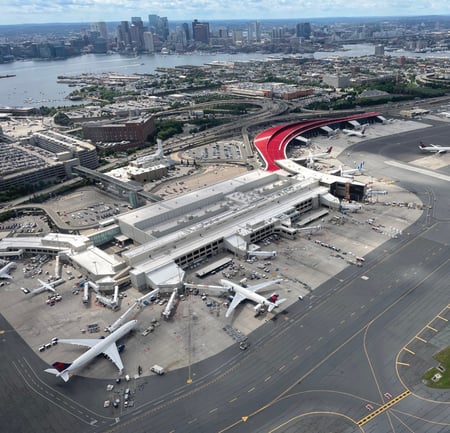 Photo courtesy of Massport
2. Two AIPC GOLD Certified Convention Centers – the Boston Convention & Exhibition Center (BCEC) and the Hynes Convention Center
The Boston Convention & Exhibition Center has 2.1 million square feet (195,096 sq.m) of space, with 516,000 square feet (47,938 sq.m) of contiguous exhibit space and 82 meeting rooms. The 40,020-square-foot (3,718 sq.m) ballroom, overlooking Boston's Seaport District, offers breathtaking views.
The Hynes Convention Center has 176,480 square feet (16,396 sq.m) of versatile exhibit space and includes four exhibit halls that can be used in any combination. The Hynes also has a multi-purpose auditorium for exhibits or general sessions, 38 meeting rooms, and a 24,544-square-foot (2,280 sq.m) ballroom.
Our convention centers offer free, high-speed Wi-Fi throughout, including the meeting rooms and exhibit hall floor, along with a full range of building services to support your event.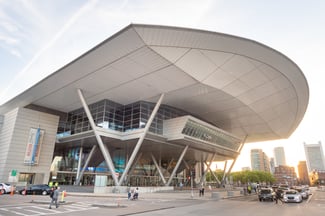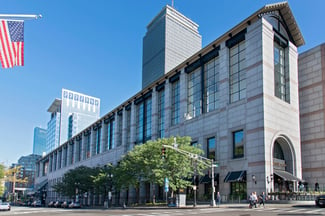 3. Science, technology, medical, education, and finance industry leaders in and around Boston
Boston is a leader in today's fastest growing industries including life sciences, technology, medical, education and finance. Our city is a place where your attendees can gather, learn, and share knowledge. The number of quality institutions and professionals in and around Boston provide conventions with critical resources like expert speakers, and a base of attendees who either live in proximity or have prior ties to Boston.
Quick facts about Boston's leading industries:
The Boston metropolitan area is home to 45 colleges and universities including some of the most highly ranked in the world, including Harvard and MIT.
Boston's world-renowned medical institutions receive more National Institutes of Health (NIH) funding than any other city in the US with 6 of the top 10 hospitals supported by NIH in Boston.
Over 40% of US healthcare professionals and research physicians are within 2 hours of Boston.
Boston is a major hub for 3D printing technology, artificial intelligence, robotics, and machine learning and is home to three of the top robotics companies in the world: Boston Dynamics, Rethink Robotics, and iRobot.
One third of all US-based biopharma IPOs in 2022 were Massachusetts-based.
Massachusetts-based biopharma companies raised $8.72 billion in venture funding in 2022.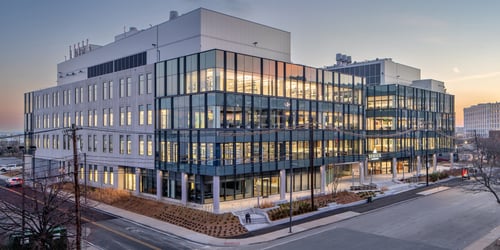 4. Sustainability practices at our convention centers
Energy, water and waste conservation are the focus of the daily operating strategy at Boston's convention centers. We minimize power consumption through sensor-controlled utilities, high-efficiency lighting, and operations strategies that allow us to minimize usage in non-occupied spaces.
We are committed to using green cleaning products, sourcing local food and beverage, composting food waste, and increasing our diversion rates year after year.
LEED certified: In 2016, the Boston Convention & Exhibition Center (BCEC) was certified LEED Silver by the U.S. Green Building Council. LEED, which stands for "Leadership in Energy and Environmental Design", is an internationally adopted "green building" rating system, which evaluates a building's environmental footprint in terms of its resource consumption, waste management practices, and overall operational efficiency.
Locally sourced food and composting: Our food and beverage partners, Levy Restaurants, are committed to sourcing local food and beverage (depending on the season up to 75% of their ingredients come from local farms and producers) and composting food waste.
Recycling: The BCEC and the Hynes recycle over 800 combined tons of material, including cardboard, plastic, paper, glass, and food waste with an average waste diversion rate of 47% at the BCEC. Annually, over 600,000 lbs of food waste are sent to be used for anaerobic digestion with any residuals being pelletized and land applied.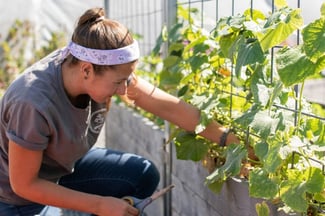 5.
We are your liaison to hotels across the city
The Boston metropolitan area features over 30,000 hotel rooms that enjoy unmatched proximity to the international airport, convention centers, waterfront, and city sights. From small boutiques to large upscale luxury, Boston offers a variety of hotel options tailored to your preferences and budget! The BCEC is connected to both the Westin Boston Seaport District Hotel (793 rooms) and the Omni Boston Hotel at the Seaport (1,054 rooms). The Hynes is connected to the Sheraton Boston Hotel, Boston Marriott Copley Place, and Westin Copley Place Boston. These three world-class hotels together offer 2,750 rooms.
Our experienced and knowledgeable Hotel Relations Team serves as your personal liaison to Boston's hotel community. This service is complimentary and includes a personally-assigned Hotel Relations Manager, who works diligently to provide a recommended hotel package that best meets your goals.
Our team is dedicated to connecting your attendees with the lodging and amenities they need!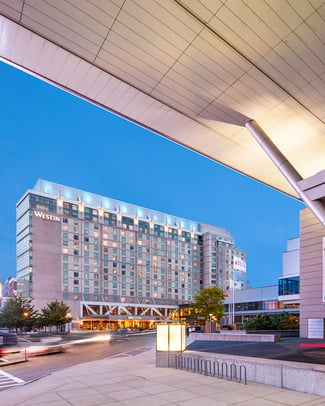 6. Cuisine for diverse palettes, plus signature local dishes
Boston's cuisine is inspired by its international population. No matter where you come from, you will find a piece of home in Boston. While Boston is renowned for its baked beans, Boston cream pie, lobster rolls and clam chowder, you can find a wide range of cuisines from around the world, including new food halls highlighting international and local influences. For a taste of traditional Boston, visit Quincy Market, the North End, Union Oyster House, The Barking Crab, Mike's Pastry, or the Omni Parker House. Boston's most widely known restaurants draw rave reviews time and time again!
Many of Boston's restaurants also offer private dining options, perfect for hosting your off-site functions.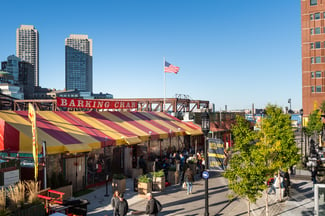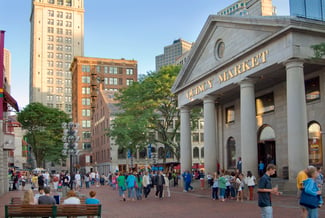 7. Accessible Off-Site Venues to Host Your Special Events
Whether you're looking for a place to host an off-site event or just a place to go have fun when the meeting ends, both the BCEC and Hynes are within close proximity of dynamic, experiential venues to host your special functions. From interactive experiences to elegant receptions, we can accommodate your needs. Take a look at event venues, restaurants, and more in our interactive Boston map & venue finder.
Event planners working with our convention centers have complimentary access to the Meet Boston Destination Services Team. The Meet Boston experts are committed to finding the perfect spots around town tailored to your attendee base.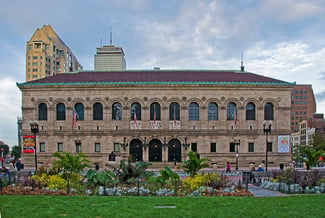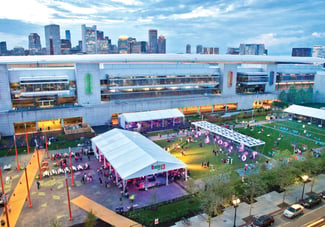 8. Entertainment and shopping options around the city, near your event space
Boston offers a wide variety of shopping and entertainment options for all tastes and budgets. Whether you're looking for classic establishments or new spots with the latest arts, entertainment, and fashion, Boston has it all. Check out Meet Boston for an in-depth look at things to do in the city!
PERFORMING ARTS | MUSEUMS | SPORTS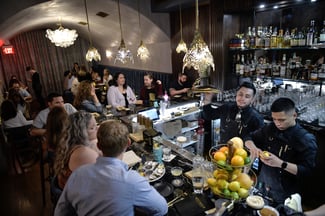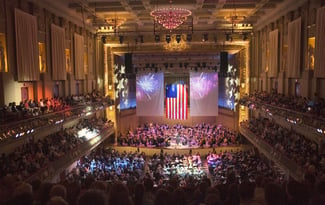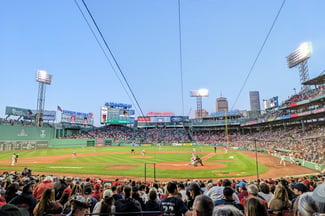 9. A hub for American history and colonial architecture
Boston is one of the oldest major cities in the U.S.—the history of Boston is America's history. Each of our convention centers are minutes away from cultural attractions that showcase Boston's involvement in the American Revolution. Experience the Freedom Trail, a walking tour through the city that takes visitors to 16 historical sites and covers two and a half centuries of American history, and the Boston Tea Party Ships and Museum.
Inspired by its rich history, Boston's architecture has been shaped by the many generations of settlers to the region. Narrow cobblestone streets, gas-lit lanterns, and Federal-style rowhouses give areas of Boston, such as the Back Bay and Beacon Hill, the feel of an old English colony. The North End, Boston's "Little Italy," is similar to the streets of Italy with its winding stone pathways and cafes. Neighborhoods like the Seaport District and Financial District are where historic and modern architecture meet, showcasing a newer side of Boston. To learn more, check out our blog post on Boston's Most Notable Architecture.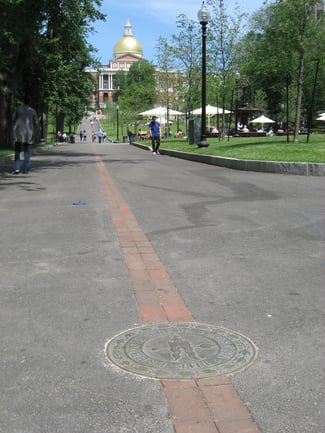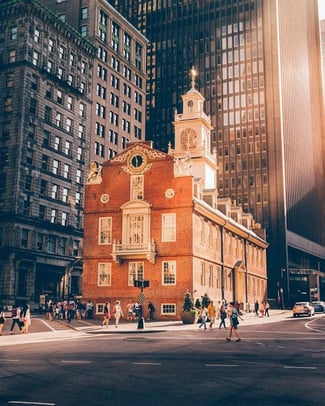 10. Access to scenic destinations and attractions around the New England region
Have you considered extending your stay and exploring the New England region? Spanning six states, the New England region has destinations of all kinds for whatever leisure or recreation you love.
You can start your New England excursion in Massachusetts outside the Boston city limits – beaches, mountains, and charming towns span across the state and all along our scenic coastline! Learn more from the Massachusetts Office of Travel and Tourism.
Beyond Massachusetts, you can see the rocky coastline of Maine, the picturesque fall foliage of Vermont, and the mountain peaks of New Hampshire. Relax in the dune grasses and beaches of Cape Cod, stroll the colonial streets and historic mansions of Rhode Island, and take in the classic town greens and steepled churches of Connecticut. Let Visit New England show you around the region!
POPULAR YEAR-ROUND DESTINATIONS
Connecticut
Maine
Massachusetts
Cape Cod National Seashore
Martha's Vineyard
Nantucket Island
New Hampshire
Rhode Island
Block Island North Light
Newport Mansions
Vermont
Burlington
Historic Downtown Stowe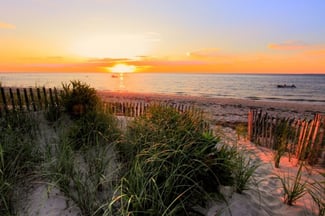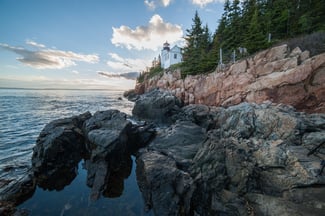 To learn more about bringing your international event to Boston, come see us at the Meet Boston booth at IMEX America, October 17-19, in Las Vegas!